Massage Freestanding Soaking Bathtub With Faucet
Product Detail
Product Tags
1. Position the bathtub against the wall and adjust the bathtub level by turning stand screw.
2. Before installation. First check for any leakage due to transporting. Then check if the water level is 5cm higher than the spray head. If there is any leakage, check all joint and dry the leaking part, then apply some sealant and let it dry.
3. The load of the bathtub's bottom should be equal. Stationary type and mobile type of bordered bathtub should always be connected with inlet of sewer. Some cement may be applied under the bathtub to strengthen its base.
4. When installing, cover the bathtub's surface to protect it from falling concrete, sand, stone or any materials that may cause damage to the bathtub.
Same space, different feeling. Fall in love with taking a bath because of the "bathtub".
Moershu's massage bathtub has a comfortable water pressure massage, and the classic black and white color matching is in line with the aesthetic design of young people. Acrylic material is environmentally friendly and heat preservation, and the shape is changeable.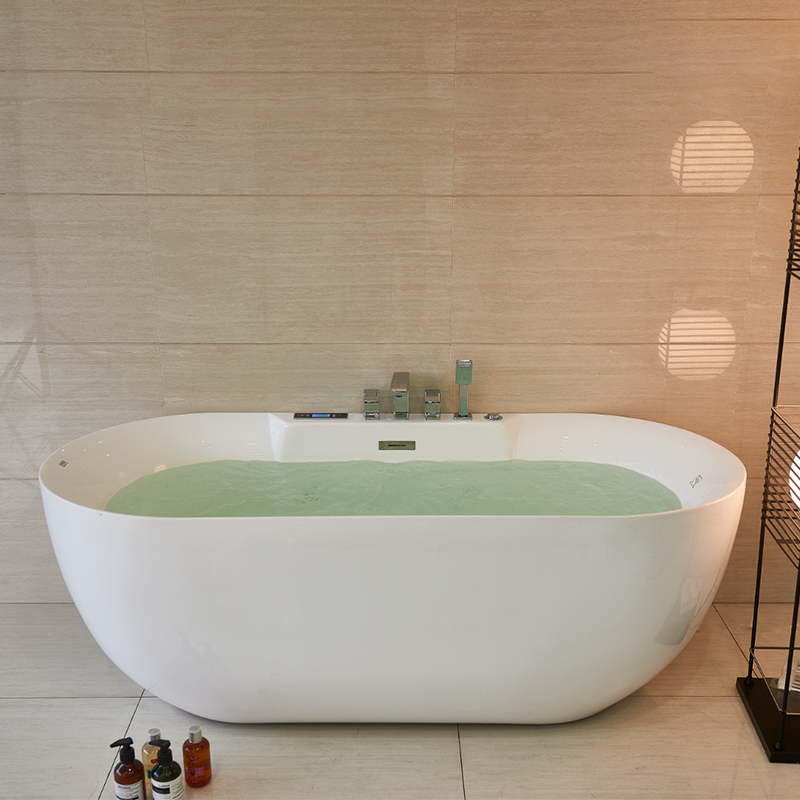 Pursue a simple and not simple quality life.
Unique design, suitable for a variety of decoration styles.
Seamless docking technology, using fine seamless docking, makes the bathtub seamless, beautiful and smooth.
Good thermal insulation, ergonomic design, environmentally friendly materials, large bathing space.
The detachable bouncing sewer can intercept blockages such as hair strands for easy cleaning and keep the sewer unobstructed.
Choice of faucets, floor-standing faucets, or directly on the bathtub.
Colors are customizable, black or white, and finishes are also available, glossy, or matt. Pick the one that best suits your liking.
---
Previous:
Apron One Piece Skirt Built-in Bathtub
---
Write your message here and send it to us